Samsung SM-G570F Fix Error Has Occurred While Updating The Device (Without Flashing)
samsung soft brick error fix, Samsung SM-G570F soft brick fix, today we will share you how to Fix Error Has Occurred While Updating The device in Samsung G570F very easily If you face a Softbrick error on your DeviceDevices. So there we are sharing a simple method to fix Softbrick on Samsung G570F and other Samsung Devices with a very simple way, but in this Method, you cannot fix hard bricked Samsung Devices because this tool only repair some files of your Software and this process this tool can't repair the partition error on your Devices or if your flash your Device and suddenly stop flashing and your Device show like this so we recomended you to flash fully on your Device again then if you again show like this then try this tool for fixing the error on your Software.samsung soft brick tool to fix your Device soft brick problem on your Samsung Devices.
Samsung SM-G570F Fix Error Has Occurred While Updating The Device
Note: In next time I will upload how to fix hard bricked Samsung Devices…This method I fixed soft brick Samsung Devices. Partition error would not work with this method…
This method we tried for Softbrick fix Samsung G570F. You can also try other Samsung Devices as well.
-Download All files first.
-Extract the Downloaded files on your PC.
-Now install the tool. (that we are giving below).
-Tool Password (www.gsmhagard.com).
-Now Open the tool.
-Now on your Device.
-Power Off your Device.
-When fully Power off your Device.
-Put your Samsung G570F in "Download Mode".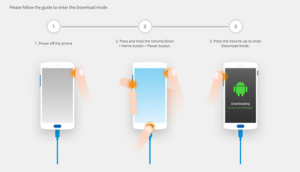 -Using-Press and Hold Volume Down – Home and Power Key. When Boot Your Device Release All Keys…Now Next Step to Confirm -Press Volume Up Key to Confirm Download Mode}.
-Connect Your Device To PC  [USING USB CABLE].
-Now Open Device Manager and check your Device driver work or not.
-Install Samsung USB Driver.
-Open the FRP hijacker Softbrick fixer tool.
-Now on top tap on "Scan" button.
-Now there Showing your Device driver com port.
-Now Select  "Samsung SM-570F" or your Device Model.
-Then tap on "Download Mode".
-Then Select on "Softbrick Fixer".
-Then tap on "hijack it"
-Wait for the finish.
-After done disconnect and check or Device.
-If your Device Power on So that this method is work for you.
-If not work simply flash your Device.
For More info about this guide:-
Watch this Video guide for you:
Subscribe Our Channel For More Interesting Videos Daily (On Youtube):-SUBSCRIBE
Download your files:-
Frp hijacker latest Version Download:-
File Name: -FRP Hijacker v2.0 (Gadgetsdr.com).zip
Tool Version: -2.0
File Size: -10MB
Tutorial:- Flashing Tutorial
Download: –Click Here To Download
Samsung USB Driver:-Download Samsung USB Driver
Other helpful for you:-
Bypass Google account HTC Devices.
This method we used:
Samsung Soft brick error.
Samsung G570f soft brick fix
Samsung Soft brick error fix.
Samsung soft brick fix tool.
If I help you Please Share This Post On Social Media
FOR MORE INFO
Our services:-
Welcome to Gadgets Doctor Official  website ..Gadgetsdr.com  is the best website to download any  Phones official stock firmware, combination file, Custom Rom, USB driver, Flash tools.W e are shared some files that have a password and are mostly all files password is GADGETSDOCTOR but is few cases we use this Password –GADGETS DOCTOR . Gadgetsdr.com always provides you all tested firmware and files all tools that help you to repair your Phones. We have always tested all the files and the firmware before we upload that on our Server. Please note we didn't test all the tools that we share but that time we use the customer user reaction and feedback before we upload that files on our Website. if you like our file so please share this page with your friends on Social Media. We are updating our website is daily basics if you went to know latest firmware updates so join us our official Facebook page and also Follow us on Twitter and Youtube. If you get any problems so please contact us on Contact Us pages . on this page you found  flash tools, mi unlock tools,FRP unlock tools,firmware without password, Samsung FRP unlock firmware, flash file without password, android Fastboot FRP reset tool, firmware, flash file, Stock Roms, Combination file, Boot File, Custom Roms.Thanks for using Our Files. stay with us  www.Gadgetsdr.com.