Is your SStuck on FRP verification after the hard reset, if your device stuck at google account verification screen then here we will solve your problem by unlocking Factory Reset Protection lock from your device, so just follow this process to Honor 8A FRP Bypass very easily, there is a couple of methods to unlock Google Account lock from your device but we share here the latest and easiest method to unlock Google Account lock.
This phone has some strong features, the front camera of this phone is good enough to provide crisp and clear selfies and the storage of this device is sufficient enough to store a big amount of images, videos and kinds of music, This device has a decent processor and RAM management is very good while you do multitasking with this device.
Things That you Needed
You can follow this method on Huawei JAT-LX1, Only you need a good internet connection and download some files.
Warning:- This method is only for the device owner.
Note:- This method is successfully applied to JAT-LX1.
Caution:- We are not responsible for any damage to your Device. before you try this method backup your Full data.
First of all download all the below the files.
-Download first FRP file that helps you to detect your device in FRP Tool.
-Huawei Y6 Prime FRP Tool:- It's a new tool to remove FRP.
-Download & Install MTK USB Driver.
-Follow the below guide carefully to Honor 8A FRP Bypass successfully.
Download JAT-LX1 FRP File
File Name:-Huawei_FRP_FRP_File.zip
Download Flash Tool:-Here
VIDEO GUIDE:-
Now install MTK USB Driver to Computer:
-Open the "USB Driver" folder, there you will see a "setup.exe" file.
-Install the "Setup.exe" file by double-tapping on it.
-Then hit next -next-next -finish to install the Samsung USB driver to your computer.
-Done. now your device will easily detect on PC.
Now follow to Honor 8A FRP Bypass 
-First of all, download all the files from the above link.
-After that, now extract the FRP file and tool on your pc.
-Now open the extracted folder, there run SP flash tool.exe.
-Then on the "Download-Agent tab click on "Choose" and choose the "MTK all-in-one -da" file from the Huawei FRP tool " folder
-Next, click on the "Scatter-loading" tab click on choose and then select "Android_scatter_Fastboot.txt ".
-Then click on the "Auth" tab and click on the "Choose" and then select "Auth_Sv5.auth" file.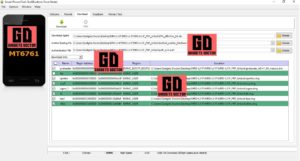 -Now go to the "Format" tab and select "manual format flash".
-Open the "Android FRP WIPE.txt" file from the frp file folder.


-Copy and paste the format code.
Huawei Y6 Prime Test Point
-Power off your device first.
-Remove the back cover of your device.
-Then check the below pic and did the same. -Short the pin to GND.
-Now press the volume up key to confirm the download mode on your device.
-Ok Now connect your device to PC.
Now Watch the Video.
Thanks for visiting us, Comment below if you face any problem With Honor 8A FRP Bypass, we will try to solve your problem as soon as possible. you can check other some tutorial here to help you.