Download FRP ByPass Apk for all android. You can download FRP ByPass Apk from our website. This app can be downloaded by visiting the following link. You don't need to pay a single penny for this Android app. You wouldn't find the app on the Play Store. Basically, the FRP ByPass Apk can be used to remove FRP from any Android 11 R, 10, 8, 9, 7, 6, 5 versions easily even without using a computer.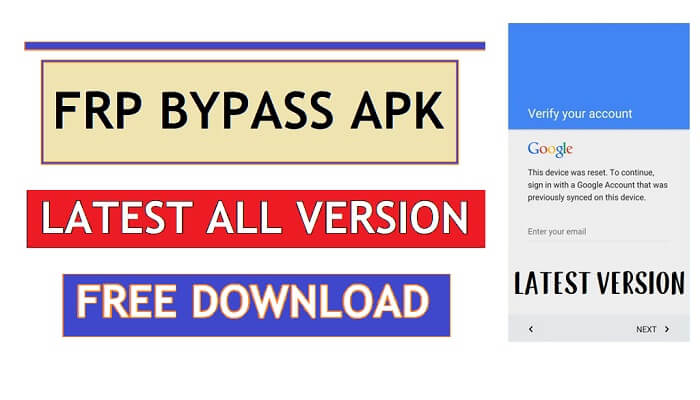 To remove your Google account procedure is quite simple, just follow our simple below steps and download FRP Bypass Apk on your phone from the below-given link it is totally virus free. On below, we have explained in detail what is special about FRP ByPass Apk.
what is special about FRP ByPass Apk?
FRP ByPass Apk can be described as a type of tool app that can help to perform the Google Account Verification bypass easily. After restoring, you will be stuck at FRP screen. FRP is a type of device protection lock most commonly found in the latest released Android mobiles. Mobile will ask for your Google account after you have restored it. You will need to bypass the Google account protection easily.
Forgot your password? This can cause serious problems. You won't be able to use your phone until you have entered the old email ID. This is a type of new security lock. Your mobile won't open fully unless you log in with an old ID. This problem can be solved by using this FRP Unlock Apk. This app will allow you to delete your old Google account from your mobile. Each mobile device has its own way to use this app. These videos can be found online, and you can also remove the lock from your mobile device with this app.
FRP ByPass Apk has been removed from the Play Store because it is against certain rules. This is why this app was not placed on the Play Store. This app can be downloaded from any website. This app is easy to use. It is very simple to use, thanks to its smaller size. This app is a great way for mobile repairing centers to make a lot of cash. This app allows you to remove FRP from your own home. You don't need to bring your phone to the repair shop. FRP ByPass Apk can be a very useful application. You should use it once.
What is FRP?
FRP ByPass Apk can be used on Android. FRPs can unlock a mobile device by using this application. Mobile repairing centers use FRP ByPass Application latest version most often. This application is very useful in mobile repair. This application is very easy to use. FRP ByPass Application can be downloaded for free. It is not available in the play store. It will be downloaded from a website.
Google Account Manager is a type of lock. To remove it, you can use FRP bypass APIPK. FRP is the lock that Google accounts impose. As if you restore a phone. After that, the problem will be identified. This problem can be avoided if we restore Google account from our mobile. Hardik can be easily removed using FRP Unlock Apk.
Download FRP Bypass APK Latest
| | |
| --- | --- |
| Application Name | FRP Bypass APK |
| Supported Language | Multi-Language |
| Application Type | APK (Android) |
| Developer | FRP_Bypass |
| Application Size | 1.2mb |
| Supported Android Version | Android 5.0 Lolipop & Above |
What is Google Account Manager? (FRP) & Why We need it?
Google Account Manager is an Android Apk that allows you to bypass FRP (Google Account Bypass). It also manages Google Accounts on Android. . The App can be used to remind you of your Pass. The App will ask you to enter the Passcode word.
Google Admin is a different version of Google Manager. Admin aims to control cloud services, whereas Manager allows you to log in to your Android Mobile account with your email id and password. This allows you to access all the services offered by the internet giant. All data and information stored on the device is synchronized with other devices that have the same Google Account. In the event that you need to switch your Android Mobile, simply add the account. This will allow you to restore any information stored on an older Android Mobile. This app also adds an additional layer of security to your mobile. It helps in the normal functioning of all services that are closely related to Google Account (FRP).
First, enable unknown sources in Android Mobile Settings. After that, you can install the Apk. The manager will automatically make the required settings. To access your account, the Apk will automatically connect to Play Services App. This app can also be used if your G. Account suddenly stops working on Android. The Google Account Manager App is able to help you resolve most problems, such as installing a new firmware or making unnecessary changes to settings.
Google account manager gives you access (FRP), to Mobile setting and tools for managing your Google experience with products like Search and Map. Bypass (FRP), ERROR in entering email and password on Google Account Manager. FRP bypass problem solved.
Check: Download Google Account Manager (All version)
How to use FRP Bypass Apk on Android Phones?
FRP ByPass Apk makes it easy to use APK. You will need to download the app and then open it to do some work. We'll show you step-by-step.
First, you must FRP apk download to your phone.
You will now need to install FRP Apk as normal. It must be opened.
After you have opened FRPApk, you will need to have given a search box at the top. In this search box, you can search Google Account Manager.
Click on the Google Account Manager. There are many options available. You will see a password and email, and you must click that option.
Click on the text in the middle to open a page or one of your forks.
Click on the three dots at the top. It will now give you the option to sign in, click on it.
You must reboot your phone after you add a Google account. Your FRP will be removed as soon as your mobile is rebooted.
FRP bypass is now available for your mobile, regardless of whether you have a Google account.
Check out some other useful FRP Tools:
Source: URL